Word Nerds of the Web, Unite!
If you want a picture of the English language five years from now,
picture a lolcat snoozing on top of the OED
— forever.
(my apologies to George Orwell)
Why The Internet Could Be the Best Thing That Ever Happened To The English Language: Online epiphanies of an inveterate grammar snark, By Olivia McDowell.
Aside from that pesky lolcat (which any standard spellcheck will replace with 'polecat' — one feels the urge to click 'OK'), we can safely blame the web for such mistyped (and now entrenched) atrocities as w00t, pwned, and FRISTTT!! For vowelless, spaceless, badly capitalised monikers like facebook, MySpace, YouTube, flickr and tumblr. For aLtErNaTiNg cApS dIsOrDeR. For what the librarian of the US Congress has called "the slow destruction of the basic unit of human thought: the sentence". For lmao, rofl, and people who say 'LOL' in face-to-face conversation instead of actually laughing out loud. That's a LOT to answer for. Looking at this line-up of linguistic mutants, you could be mistaken for thinking that the English Language As We Know It is in dire straits.
But on the other hand, maybe the online slaughter of the English language has been greatly exaggerated. In the 'real world' (read: the Beijing Olympics) hundreds of thousands of people are willing to gather in one place to watch the guests trample paint all over the floor. The odds of a misplaced apostrophe pulling the same sort of crowd — in the real world — are not good. Online, it's a different story. When it comes to the orthographic battlefront, the internet is where it's at. Facebookers are literally flocking to groups where they and other likeminded snarks can happily snipe about punctuation pet peeves, grammatical gripes, and all matter of linguistic misdeeds, online and off.
~ ‽ ~
The group was started more or less as a joke.
I figured I would have maybe a hundred or so members at most.
It blows my mind that it now has almost 100,000 members.
— Brian Mark, creator of 'If You Can't Differentiate Between "You're" And "Your" You Deserve To Die'.
Call it meta, call it irony, call it navel-gazing. But far from destroying the language, and despite what crotchety luddites would have you think, it is web users who will save us from a future of grammatical damnation.
At last count (19 October 2008), 'I judge you when you use poor grammar' had 308, 088 members (growing by about 300 daily). That the groups unaffiliated, narkier offshoot 'I don't just judge you
when you use poor grammar, I think you're a moron' had a more or less static membership of 2, 552 might indicate the generally amiable attitude among the facebook/word nerd community. On the other hand, the somewhat fierce 'If You Can't Differentiate Between "You're" and "Your" You Deserve To Die' had racked up 98, 486 members, but is being whipped by the salacious 'Good Grammar Is Hot' with 108, 557 (the even saucier 'Proper Grammar, Capitalization, and Spelling Turn Me On' managed only 87 passionate devotees). What the lesser players lack in membership, they make up for in sheer volume. A quick search turns up 'Grammar Freaks United', 'Grammar Nazis of Australia', 'Grammar and Punctuation Are Your Friends; Embrace Them', 'Bad grammar kills kittens', and countless, countless others. The 342-strong 'Society for Correct Grammar, Punctuation and Spelling' ("**Breaking News** Bad spellers may dislike this group"), and the slightly smaller 'Dislike of Bad Punctuation, Grammar and Spelling Association' are just the tip of the officious iceberg. There are no less than six variations of Bad Grammar Makes Me [sic] (one of which intentionally (or unintentionally) spells its title "Grammer" [sic]). Er, never mind that the whole epithet is gramatically incorrect (it should be 'incorrect' grammar, or 'poor' grammar).
Almost all of these groups survive solely on user submissions, fed by a constant influx of photographs from snap-happy members. Photographic evidence of so many linguistic crimes, committed on office noticeboards, menus, product packaging, street signs, billboards and, of course, facebook. The manifesto for 'I judge you when you use poor grammar' is brave, ambitious, and riotously tongue-in-cheek:
If we are going to win the War on Poor Grammar, we have to seek out the infidels (grammar offenders) and hold them accountable. Under our watch, justice will indeed prevail. Your assignment is to seek out the infidels and document their acts of terror. Take pictures and post them in this group to serve as examples to all. Our condescension and their humiliation will eventually cause them to change their wicked ways.
Not that Sharon Eliza Nichols — who founded the group after seeing the sign "Applications Excepted" at her college — knew she was joining (launching?) an online revolution at the time. "Initially I didn't think the group would achieve anything," she says. "I thought a few of my friends would join and we'd laugh about it". With its 300, 000+ membership, 3, 000+ discussion board topics and almost 5000 photos, the affectionately nicknamed "I judge you when" is arguably the most popular grammar group on facebook. It has been featured in The Wall Street Journal Law Blog, The New York Times and The Ottawa Sun, and a book, 'I Judge You When You Use Poor Grammar: A Collection of Egregious Errors, Inadvertent Bloopers, and Other Linguistic Slip-Ups' is already taking pre-orders pending the official release date in March next year.
When nitpickers who get sick (or [sic]) of joining endless proof-reading facebook groups, the next stop is the blogosphere, where one can easily find hundreds of word nerd blogs, each punnier than the last [click here for a good introductory list]. Grammar is of course a hot topic, as are apostrophes and the editing of errata in general. There is even a blog dedicated entirely to the correct (and incorrect) use of the lower case letter 'l'. Some of the bloggers are editors-at-large, others are paid for their services, but most are just insatiable orthographic hair-splitters.
For newcomers, this is a shock: the internet is a weird place. For chronic linguistic pedants, it's an eye-opening discovery: we are not alone. Though both will inevitably wonder, 'Where the hell did all this come from?'
~ ‽ ~
I think society is just surprised to learn that our generation,
the internet generation,
cares about things like proper grammar.
— Sharon Eliza Nichols, creator of 'I judge you when you use poor grammar'
It's pretty common knowledge that Gen Y and millennials are completely ignorant on the grammar front. We can't spell. We think 'gerund' has something to do with sensible underwear. We don't know how to use semi-colons. And we don't give a damn either. This is Our Reputation.
John Richards is the chairman of the 'real' Apostrophe Protection Society: unaffiliated with the eponymous facebook group, but similarly engaged in dispensing apostrophication dos and don'ts via user-submitted photographs. He represents the old guard of grammar snarks — the generation typified by grandmotherly lectures on the correct use of 'whom' and proper positioning of prepositions. "I'm not sure that modern communications have improved the English language," Richards says. "I can't think of an example, certainly. I am of an age where I have little to do with the younger generation, but from what I hear and see, many young people are not very concerned about correct use of English. On the other hand," he adds, "I have emails from young people still at school who praise my site and say they are passing it on to their friends".
And therein lies the unavoidable ambiguity. Young People These Days aren't meant to know — or give a damn about — anything, let alone orthography (the collective term for correct grammar, punctuation, capitalisation or syntax, not to be confused with ornithography, the photographing of rare birds). So what, as they say in the parlance, is the go? Since when is linguistic nitpicking all the rage?
In the 'real world', punctuation has been water-cooler material since Lyn Truss' best-selling book Eats, Shoots & Leaves went mainstream in 2006. Closet proof-readers came out of the woodwork. It was the airport book du jour: everyone had read it, and most had a copy at home. It was The Da Vinci Code, minus the god-bothering paranoia.
What makes the whole online pro-orthography movement so deliciously 'meta' is the fact that online interaction has itself been so instrumental in corroding our previously sharp linguistic tools. Once decorated with lovely but obsolete words like "thither" and "thenceforth", measured by the careful placement of semi-colons, and punctuated with oddities like the æ dipthong and the interrobang (‽), the English language is now rusting up with w00ts and lmaos.
Nichols says that when it comes to facebook, the whole issue has been one of cause and effect. "When the internet first gained popularity, people used shortcuts to communicate. Those shortcuts spread to other areas of life, and the pendulum swung too far in the direction of informality" she says. "People grew tired of it and realized that language is important." People looked for somewhere to vent, and because they were already busy on facebook (loling and pwning no doubt), groups were the natural forum.
The worst thing that has happened to the English language is those message boards where people gather to debate politics. For some reason they always devolve into poorly-written threats and misspelled epithets. — Sharon Eliza Nichols, 'I judge you when you use poor grammar'
Aside from people who confuse 'you're' and 'your', discussion boards are also one of Mark's pet peeves. He doesn't have anything against webbreviations, but says it is important to understand the ramifications of such casual language. "People need to learn that using improper grammar makes you look uneducated and will lead to many people dismissing your ideas and opinions, even in online forums where grammatical rules are normally seen as 'loose'," he says.
Like many, Marks worries not that these changes happened in the first place, but that the rot has already started to infect language use in the real world. Panic! Terror! People may forget how to use formal language, even when spotless linguistic presentation is essential? And then, before you know it, world leaders will be saying LOL and pwning each other. So what's the cure?
The problem, as columnist Emma Toms writes in The Wry Side, is that dictatorial rule books like Eats, Shoots and Leaves just don't cut it when it comes to educating linguistic criminals, young or old:
Truss's pedantic followers tend to spend their time scouring printed material in search of lone errors about which they can chuck sanctimonious hissy fits. Patronising, nerny, nerny, ner ners won't lure P-plate apostrophisers back to the punctuation table. What we need to do is to stop getting so uppity about individual errors and start getting more downity on uninspiring "eat up your vegies" approaches to teaching…
See, that's the thing about all these facebook groups. They're less about preaching and more about punning. Less fervent, more fun. Right?
~ ‽ ~
Laughing with you, or laughing at you?
Nikki (aka The Grammarphile) keeps the popular proof-reading blog Red Pen, Inc., which has since spawned a facebook Fan Page, a MySpace profile, and a cafépress couture store. A Boggle-fan and former radio journalist, her transormation into fully-fledged Grammarphile came after one too many grammar gaffes in the workplace. "It's an industry where so little good grammar is used", she says. "I constantly found myself frustrated with the lack of grammar skills around the office. One day I was reading Go Fug Yourself, and thought, 'You know, someone should do this, but with a focus on grammar-related snarkiness, instead of fashion-related snarkiness'. And then, inspired by my co-workers' grammar gaffes, I decided that someone should be me!"
"I hope the blog makes people laugh!" says The Grammarphile. "I consider it more of a humor site than a grammar site. If it teaches people something about grammar while they're laughing, then so much the better".
The thing is, making fun out of linguistic faux pas is essentially making fun of the people who make them. The whole exercise may be less 'nerny, nerny, ner ner', but it's very much trial by public humilation. No-one wants to be the subject of such scathing online ridicule. Would you be so careless with the you're/your delineation knowing there were hundreds of thousands of hungry eagle-eyes waiting to wish death upon you or — even worse — make you the brunt of their collective in-joke? Giggling over your own slipshod spelling is one thing, but having it preyed on from here to Azerbaijan is something else entirely.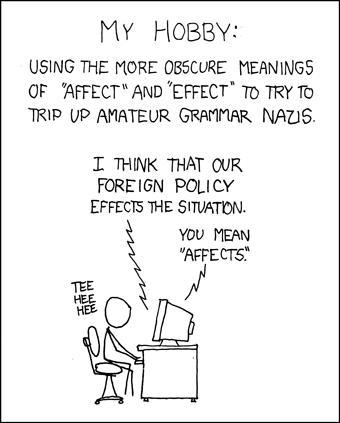 Brian Mark's facebook group 'If You Can't Differentiate Between "You're" and "Your" You Deserve To Die' is one of the more jokingly vengeful out there, inspired by Mark's "violent sense of humour and short fuse for people who use grammar incorrectly". He admits that the whole phenomenon, though not necessarily targeted towards general deterrence, does have a touch of 'cruel and humiliating punishment' about it.
No-one comes into the group to learn, they come in to make fun of the people who have not learned. Groups like these eventually just degenerate into snobbish, zealous pedants laughing at the poorly-educated 'lower grammatical class'.
Ouch.
I know that realistically the group isn't going to change anything, but it more or less provides a forum for like-minded people to communicate and, more importantly, to complain.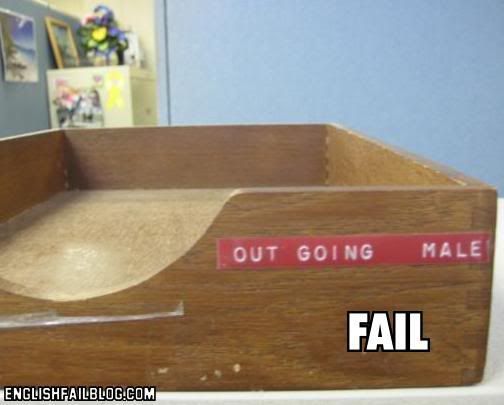 So all this is just icanhascheezburger for linguistic snarks.
A common point of interest.
An online laughing stock.
Well if it's not going to solve anything — if the network of online pedants is just splashing about in the deluge of linguistic crimes — then why keep it online? Surely all this linguistic passion would be more effective if people actually did something about it.
~ ‽ ~
What goes online stays online
Alas, it isn't that easy. In The Real World, The Grammar Vandal might get away with policing public signs, sticky commas and Sharpie pen in hand, but other vigilantes haven't been so lucky.
Case in point: the sad story of Jeff Deck and Benjamin Herson, better known as the two-man Typo Eradication Advancement League (and by the colourful acronym TEAL). Their much (much, much, much)-publicised, trans-American, typo-fighting, sign-emending odyssey ended prematurely in the courtroom, with a one year probation, a US$3045 restitution order, and (shock, horror!) a year-long ban from National Parks. Plus they've had to publish an embarrassingly penitent apology on the official TEAL website. And all because they tried to "fix" a sign advertising the Grand Canyon as "emense" (yes, as in 'immense'). Err, and the sign was a National Historic Landmark. To a grammarphile, the real crime is that these two were penalised for conspiring to correct such a clanger, though other language-lovers have suggested, perhaps correctly, that by doing something so "stupid", the TEAL duo have "set the cause of good punctuation back" ([sic] to that ironic end-of-sentence preposition).
According to The Grammarphile, the web is definitely the safest place to launch an all-out orthographic offensive. "If, like TEAL, you move your grammar-correcting too much into the 'real world', you're going to face some problems (and hefty fines)," she says. "But if you keep it online and just promote the hell out of it in the real world, then eventually the message might just catch on…"
So what? As long as people keep making mistakes (a given), and other people keep taking photos of them, captioning them and posting them in online (pretty certain), and others still keep coming online to laugh at them (very likely), then everything will be okay?
As far as I'm concerned, it is absolutely fine to use improper grammar and spelling for effect. Look at James Joyce. I love lolcats. I spell 'more' as 'moar'… in the right context. But like many internet memes, that's only funny because the writer knows that they are incorrect. As long as the writer understands the rules and can conform to them should he or she choose, then making obvious errors is fine. — Brian Mark, 'If You Can't Differentiate Between "Your" and "You're" You Deserve To Die'
omg wtf: lolcats and James Joyce?
kthxbai.
————————
PS. The word 'snark' — which began life as a portmanteau (snide + remark) — now also refers to a nark (informer) with snarking tendencies: see detailed etymology here.
PPS. Lewis Carroll — widely credited with having invented the portmanteu during Alice's second trip, Through The Looking Glass — also wrote the fabulous nonsense poem, The Hunting of the Snark.
PPPS. 'Snark' is also another name for the Irony Mark (؟).
The author is a word nerd born and bred, and has recently come down with an embarassing penchant for lolcats. She often wishes people would use the word fora instead of 'forums', and believes 'you' should always be spelled in full, if only to avoid coming across as a lazy 13-year-old with limited mobile phone credit.
One Response